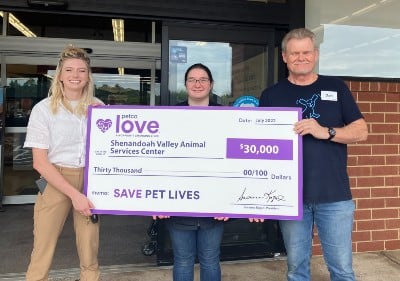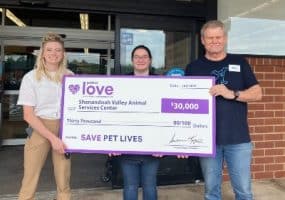 On July 21, the Shenandoah Valley Animal Services Center received a check for $30,000 from Petco Love.
"We are so honored and grateful to once again receive this generous and lifesaving grant from Petco Love," said Alidia Vane, Executive Director of SVASC. "From 2013 to 2022, Petco Love has invested $322,500 in our organization. This funding provides many of our pets with injuries, illnesses or urgent behavioral needs the opportunity to receive treatment and ultimately be adopted by loving families in Waynesboro, Staunton or Augusta County.
Funding from Petco Love pays for the majority of spaying and spaying surgeries, allowing the shelter to focus on spaying. "It allows us to be sure that the animals we adopt will not produce more animals than we can take in later. These critical surgeries have contributed to our overall decrease in inflows and drastic increase in savings rate since 2013," Vane said.
SVASC was able to reduce its admission rate by 42.56% from 2016 to 2021, according to Vane. In 2016, the shelter was 2,777 and 1,595 last year.
"This grant also allows us to set aside funds for community members who need help neutering or neutering their pets, as well as a pilot positive reinforcement canine behavior training program with a local trainer. ", Vane said.
The shelter hopes to shift the focus of funding from Petco Love as the admission rate declines to more innovative methods of marketing adoptable pets. The focus will continue to be on reducing the length of stay for each admission.
"We look forward to a continued partnership with Petco Love and are deeply humbled and grateful for their support, financial and otherwise," Vane said.
Petco Love, formerly Petco Foundation, has had one mission since 1999 "to create a better world for pets and the people who love and need them." And it all starts with love.